Ultimate Teeth Whitening Kit
Boost your smile confidence with and experience and your brightest results.
Take home our best-selling Zimba products in one ultimate kit! In this bundle, you'll achieve your brightest smile yet with our Mint Teeth Whitening Strips, Premium Teeth Whitening Pen, and NEW wireless Whitening Accelerator LED Light. Our new LED lights are the only eco-friendly option available, made from recycled plastic. 
2 weeks of whitening treatments
Extra gentle on sensitive teeth
Made with natural coconut and mint oil
50% off today!
Benefits
Clean
Vegan
Cruelty free
Reduced sensitivity
Buy two and save
Pick your own two flavours and save. Buy two for $35.
SHOP NOW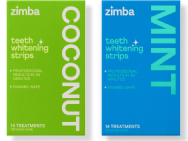 Ultimate Teeth Whitening Kit: