Teeth Whitening Strip Trio (Mint)
Dramatically whiter teeth, in a 30 minute treatment with our most popular minty fresh flavors: Spearmint, Mint, and Peppermint.
Whitening Strips provide visibly whiter teeth right away—and your brightest smile in just 14 days. Bundle any two flavors for extra savings. 
2 weeks of whitening treatments
Extra gentle on sensitive teeth
Made with natural coconut and mint oil
50% off today!
Benefits
Clean
Vegan
Cruelty free
Reduced sensitivity
Buy two and save
Pick your own two flavours and save. Buy two for $35.
SHOP NOW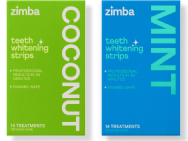 Teeth Whitening Strip Trio (Mint):